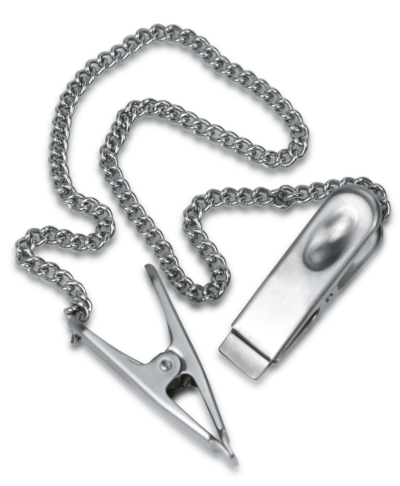 Premium napkin holder made of medical grade stainless steel
In conservative dentistry, the focus is on working with the patient.
Instruments that are used here must be practical and easy to use.
Our new Premium napkin holders (623RS / 623RS-SET6) meet these requirements thanks to their efficient use in everyday practice.
Click here to visit our Shop!
In contrast to standard variants, the premium napkin chains from Carl Martin are characterized by a higher weight, which automatically pulls the chain backwards. This effect prevents the napkins from slipping during treatment and reliably protects patients from moisture and dirt.
The sophisticated design made of matt, rustproof stainless steel also avoids glare and, thanks to its high quality, is suitable for common treatment processes.
Equipped with handy clips and a thumb slot, the napkin holders can be fixed quickly and securely. The recessed grips make it easier to grasp and squeeze the clamps and guarantee comfortable handling.
High-quality workmanship for more comfort
The stainless steel chain (34cm) comes from the jewelry sector and has a lot pleasant wearing properties. This is quality that stands out: In the high quality Visually, the successful processing of the napkin chain is just as evident as during the application.
Sustainability on the dental chair
Our Premium napkin holders are the perfect addition to your sustainable equipped dental or orthodontic practice. the stainless, Medical stainless steel is ideal for processing in the thermal disinfector and is easily autoclavable. For example, put the napkin chains in Combine with reusable cloth napkins to noticeably reduce waste reduce.

Scope of delivery: The napkin chains are available individually as well as in a set of 6.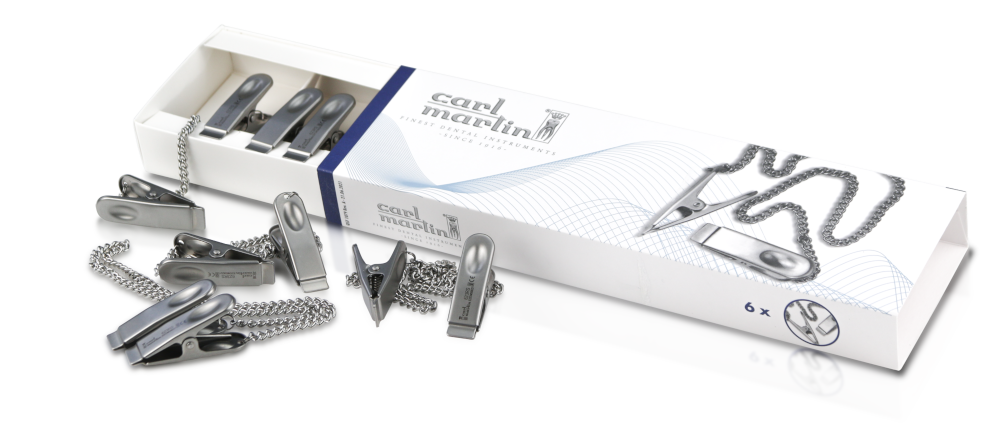 More accessories for your practice
In addition to bracket positioners, we have a large selection of accessories for your orthodontic practice**:

- Orthodontic forceps and tweezers
- Impression tray
- Mouth and photo mirrors
- Pliers for clear aligners
- Needle holder and much more.

Buy directly from the manufacturer - quality from a single source.
**All of our stainless steel instruments are easy to clean and sterilize.
You can read more about the quality standards of our products here.
Hygiene and prevention - products from Carl Martin
Cleanliness is of the utmost importance in any dental and orthodontic practice and laboratory. We have put together a selection of products for you that protect you and your patients in everyday work. From tested and CE-certified masks (FFP3) with the highest protection class to conventional surgical masks and infrared thermometers to air purifiers and COVID quick tests. If you have any questions about Carl Martin's hygiene and prevention products, we would be happy to advise you.